EDITOR's NOTE
________________
HOMA HEALINGS
________________
HOMA FARMING
________________
ECO NEWS
________________
EVENTS
________________
FUTURE EVENT
________________
SCIENTIFIC ASPECTS OF AGNIHOTRA
________________
MESSAGES FROM SHREE VASANT
________________
FROM INTUITIVE GUIDANCE
________________



Everyone wants to be happy.
Happiness is
a state of mind.
Happiness usually comes after desires are satisfied, because that leads to a state of peace until the need arises to satisfy other desires. Thus, if desire is satisfied, "we are happy"
and if not "we are unhappy."
Eventually, we realize,
happiness really comes from the state of Peace that is achieved when there are no longer desires, because they are no longer in our mind.
Making desires is choosing to live the anxiety for all the time it takes struggling to satisfy those desires.
This leads us to ask ourselves:
Can we live without desires?
First, let us differentiate what is a desire and what is
a necessity.
Necessity is something we need for living, for example: water, food, air, etc. The house and the clothes protect us from the elements.
The desire is a longing or obsession to obtain something because it will give us some personal satisfaction. If we cannot get it, life continuous.
Some will say
"that is impossible because
we always want something". Others will say something different.
You usually want what
you do not have.
But what about if you think you already are in
the best place, at the best time,
with the best people, and the best things for your evolution?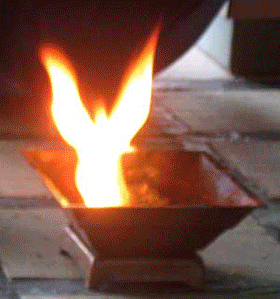 Practice the Fivefold Path for Happiness.
What about if we can smile at joy and sadness, wealth and poverty, health and illness, praise and insult?
What about if our happiness
does not depend on
external conditions or events?
What is the difference between transient pleasurable sensations and HAPPINESS?
Mental states of peace, joy, bliss, understanding, compassion, etc. are connected to Happiness.
The practice of Agnihotra helps us to find Peace by transforming the mind in the direction of Love.

The practice of the Fivefold Path (Agnihotra, Daana, Tapa, Karma and Swadhyaaya)
can help us to be happy today, tomorrow and always,
no matter what happens.

Yes, yes, if we realize that we already have all the best and that what happens to us is the best,
we can be happy here and now in a spontaneous and natural way.

OM Fivefold Path OM
OM SHREE OM